At the corner of Maplewood Avenue and Cutts Street, a mansion on a hill overlooks the town of Portsmouth, NH.  Built in 1805, the historic Cutts Mansion is no stranger to folklore and strange tales.  Edward Cutts, its first inhabitant, was the son of Captain Samuel Cutts, a wealthy Portsmouth merchant and proud patriot.  Paul Revere once rode to Portsmouth with a message for Captain Cutts to warn of a British siege in nearby Newcastle.  Edward and his family lived here after he had it built.  Of Edward's seven children, only three survived into adulthood.  Edward lived here until his death in 1824, at which point his son Hampden took up residence.  Hampden and his wife had 9 children, 5 of which did not reach adulthood.  After Hampden, the house left the family.

The Cutts Mansion is the subject of many myths and stories.  Trap doors in cabinets, secret passageways from closets, and other hidden escapes are said to have led to a system of tunnels that ran beneath the mansion.  Some tunnels ran to a stable in the backyard , and others are said to have went as far as Cutts Cove on the Atlantic Ocean.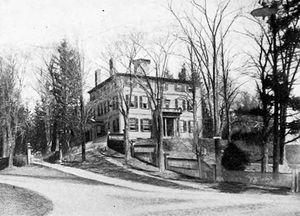 From July through December 2015, we've been lucky enough to get to set up and record in this historic mansion.  In a huge living room, complete with marble fireplace and massive ceilings, we set out to capture our sounds.  The room adds a haunting reverberation to the recordings, and sets a mood that is unlike that of present day.  The Cutts Mansion plays a big part in our upcoming EP, so we decided that we will honor it with the title "Cutts."